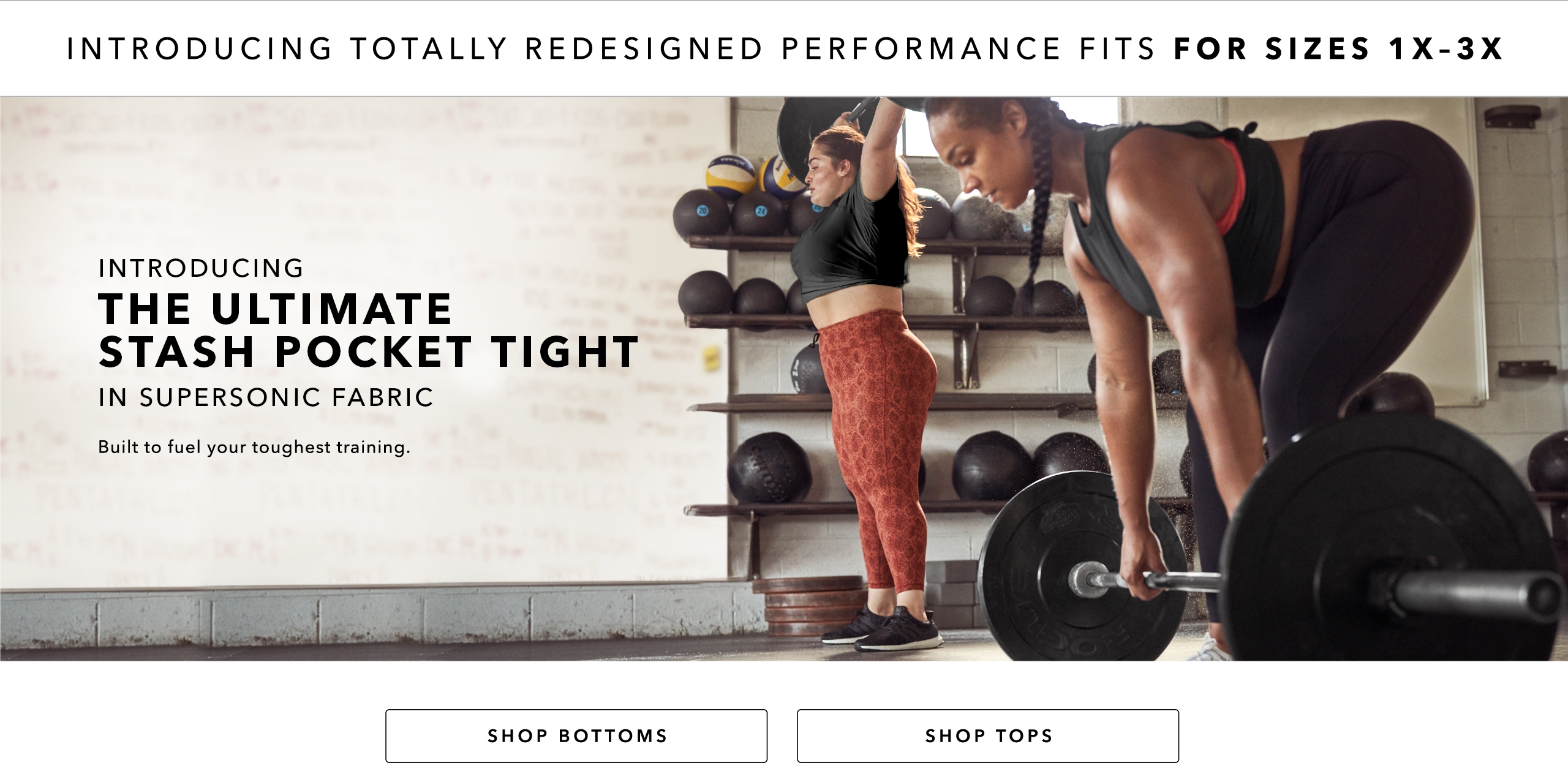 more new styles
We've included size measurements in our size guide. But since every body is different, not all sizes fit the same way. Your best bet is to use your measurements with our size guide to determine which size works best for you. As always, you can return any time through our "Give it a Workout" guarantee, so there's no rush to get things back in 30 days.
---
No. When we redesigned our 1X+ sizes, we added a size 3X and worked with our customers to determine the right waistband height, pant length, and overall proportions to provide a best-in-class fit for active women size 1X-3X. Use our size guide to find the size that will likely work best for you. If you previously purchased a product that didn't fit, you can return it to any store or use this link to return it by mail and give our new and improved fit a try.
---
To do this right we are essentially starting from scratch, completing multiple rounds of fitting, testing and gathering customer insight. It's a very time intensive process to get the best fit while delivering the technical performance and beauty our customer expects from Athleta. We're excited to start by introducing our most technical and most loved pieces first—the ones our customers say they can't live without; our biggest ideas. We will be adding to our 1X-3X assortment monthly in the coming seasons.
---
Two options: you can return to any store for a full refund, or use this link to start the return process by mail.
---
Absolutely! We stand behind all of our products with our "Give it a Workout" guarantee. Simply return an item to any store for a full refund. Or use this link to return by mail. We also encourage our customers to share their feedback by reviewing their purchase and letting us know anything else that we can improve. We take feedback seriously and want to continue evolving our garments so that we are delivering quality, performance apparel.
---
All of our improved fits in 1X-3X sizes are available online. At this time, some styles in 1X-3X sizes are available in select stores in the Dallas, Minneapolis and Detroit areas. If you live in one of these areas, check our store locator to find if your nearest store carries select styles in 1X-3X sizes. If you place an order online and it doesn't work out you can return in any store for a full refund or use this link to return by mail.
---