X
AT-HOME SIZE GUIDE
Finding a bra that fits right is key to getting good support. Before we get started, make sure to wear a lightly lined bra (not a push-up or sports bra) to get as close to your natural fit as possible. You'll also need measuring tape.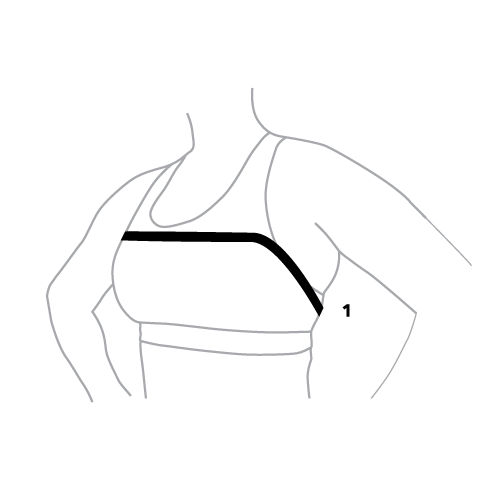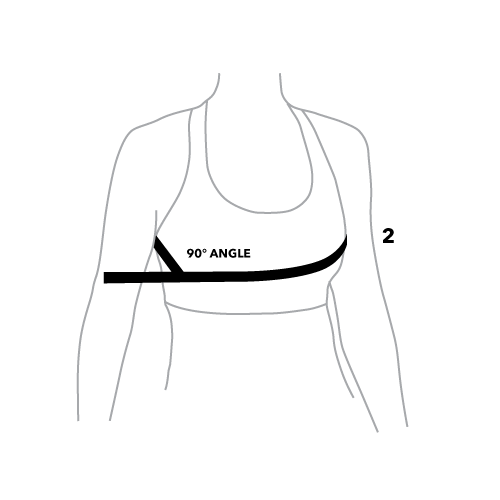 STEP 1: MEASURE YOUR BAND
Wrap the measuring tape around your back where your chest band sits. Pull each side of measuring tape under your arms and around to the front, and meet just above bust. This is your band size.
Tip: Bra bands only come in even numbers, so round down if you get an odd number. Keep your original measurement in mind for Step 3.
STEP 2: MEASURE YOUR BUST
Wrap the measuring tape around your back at band level again, but this time bring it around to the front at the fullest part of your bust. Add a little slack, so that the two sides of the tape meet in a 90° angle (T-shape). If the number falls on the half inch, round up.
This is your bust size.
STEP 3: FIND YOUR CUP SIZE
Time for a little math (just a little, promise). Take the difference between your two original measurements (band—even if it was an odd number—and bust). The difference will indicate your cup size.
1 = A
2 = B
3 = C
4 = D
5 = DD
etc.
STEP 4: CONVERT YOUR SIZE
Well done, now you have your bra size (band + cup). If you're buying an alpha-sized bra (XXS-3X), use our size conversion chart to find your perfect fit.