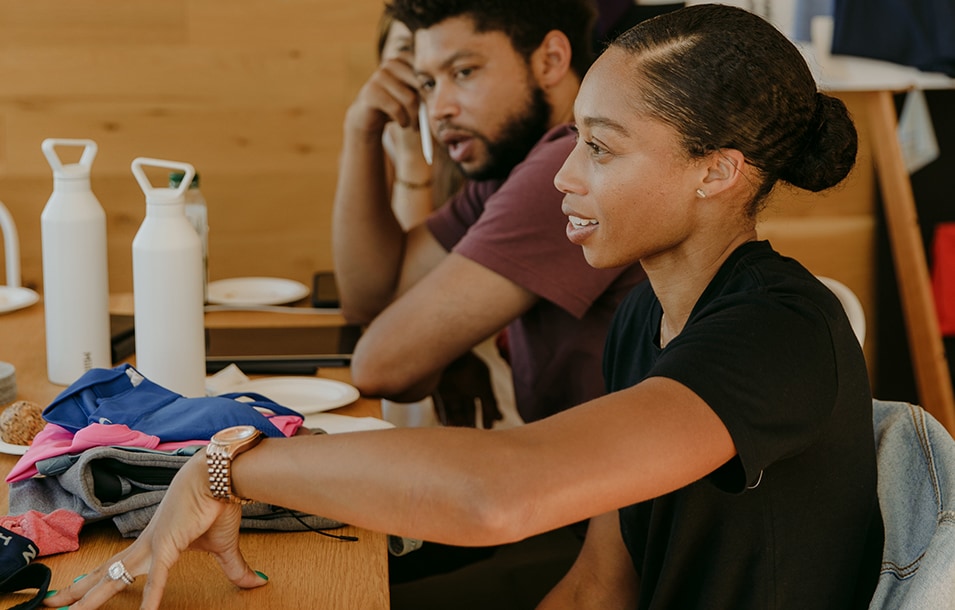 FAVORITE PIECES
Allyson's Top Picks:
I absolutely love the Legend Zip Front Bra and Legend Mesh 7/8 Tight. The set makes me feel fierce and confident—two essential feelings when I step onto the track. I also love the Legend Crop Half-Zip Jacket. Streetwear culture has had a huge influence on my style and definitely inspired this piece.
Casey's Top Picks:
The Legend High Neck Bra—it's so clean and beautiful. Tied with the Legend Oversized Jacket, which is perfect to wrap up in for travel and layered to/from the track and gym. It captures Allyson's cool, personal off-the-track style as well."
LEGACY BY DESIGN
Legacies aren't created overnight. And though this collaboration has been years in the making, it existed in the minds and hearts of its co-creators for even longer. Down to every detail, our design team led by Senior Director Casey Schumacher collaborated with Allyson Felix to craft details only the world's most decorated track and field athlete could refine. Each piece represents the beauty of what happens when women come together to define their own legacies.
Performance by female athletes, for female athletes—it's what we do. But it's safe to say we took our game to a whole other level when it came to creating for eleven-time Olympic medalist Allyson Felix. Design powerhouse Casey Schumacher was up to the challenge from the start. She reflects, "I've been an athlete my entire life, so designing beautiful, functional performance wear for women is at my core. I know firsthand that when you feel good, you perform and play better." Having dreamt of designing her own line since the start of her career, Allyson's vision was clear: "These pieces had to be able to perform at the highest level—to be able to move with my body without any distractions. They also needed to exude my own personal style and make me feel beautiful."
With that, our first-ever limited-edition collection with Allyson was born as much inside the design studio as it was outside of it. Casey's team was committed to learning both her needs as an elite athlete and her unique aesthetic. And yes, this design diligence involved shopping—a few times. "Being able to take an elite athlete shopping is awesome," Casey shares. "It's so important to gain a sense of her style so we could capture her energy, voice, and flavor. Getting into the mindset of an athlete allows us to understand what's most important to her, on and off the track."
The learnings were profound, and Casey and team soon recognized the unique opportunity to combine technology and beauty to perform at the highest level of competition. Bonus? Women and girls everywhere would have access to the same designs engineered for a world champion. "Yes, we had to consider specific fit, logos and bib placement, stitching, and constructions that didn't ride up on Allyson," Casey notes. "But our subsequent solves for zero-distraction, lightweight constructions and feminine, fast styling transcend elite athletes. We took almost every insight and applied it to the collection for all women to experience."
"This is something I've aspired to do my entire athletic career—to design for women and girls. To help them feel confident and see their worth." —AF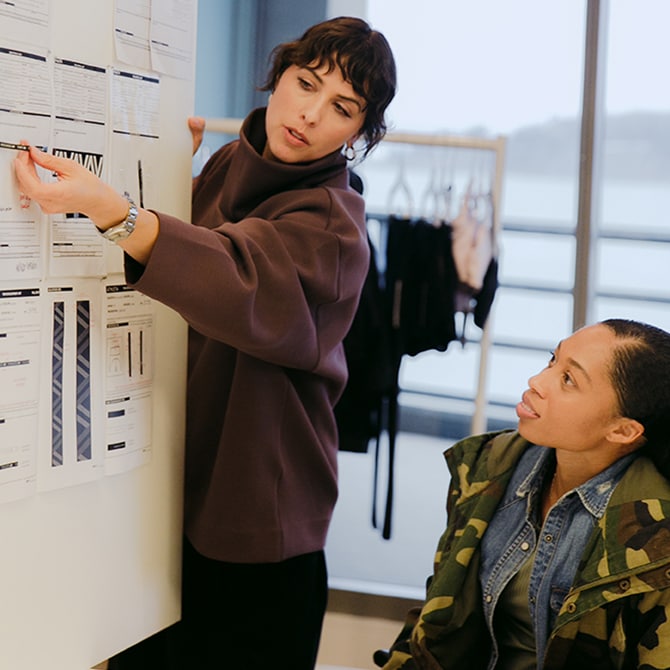 No matter the arena, comfort is queen. It's why Allyson is all about layering. "It's become part of my routine over the years. Zippers at the bottom of my tights, for example, are key. I love to be able to quickly slip them off over shoes to reveal my next layer." As a result, the team thoughtfully crafted styles that would complement one another, considering convertibility and how each one could build upon that next. In future collections, Allyson is diving even deeper into the details, adding personal touches, "If women and girls look closely, they'll find messages from me subtly placed throughout the line. These words are aimed to inspire."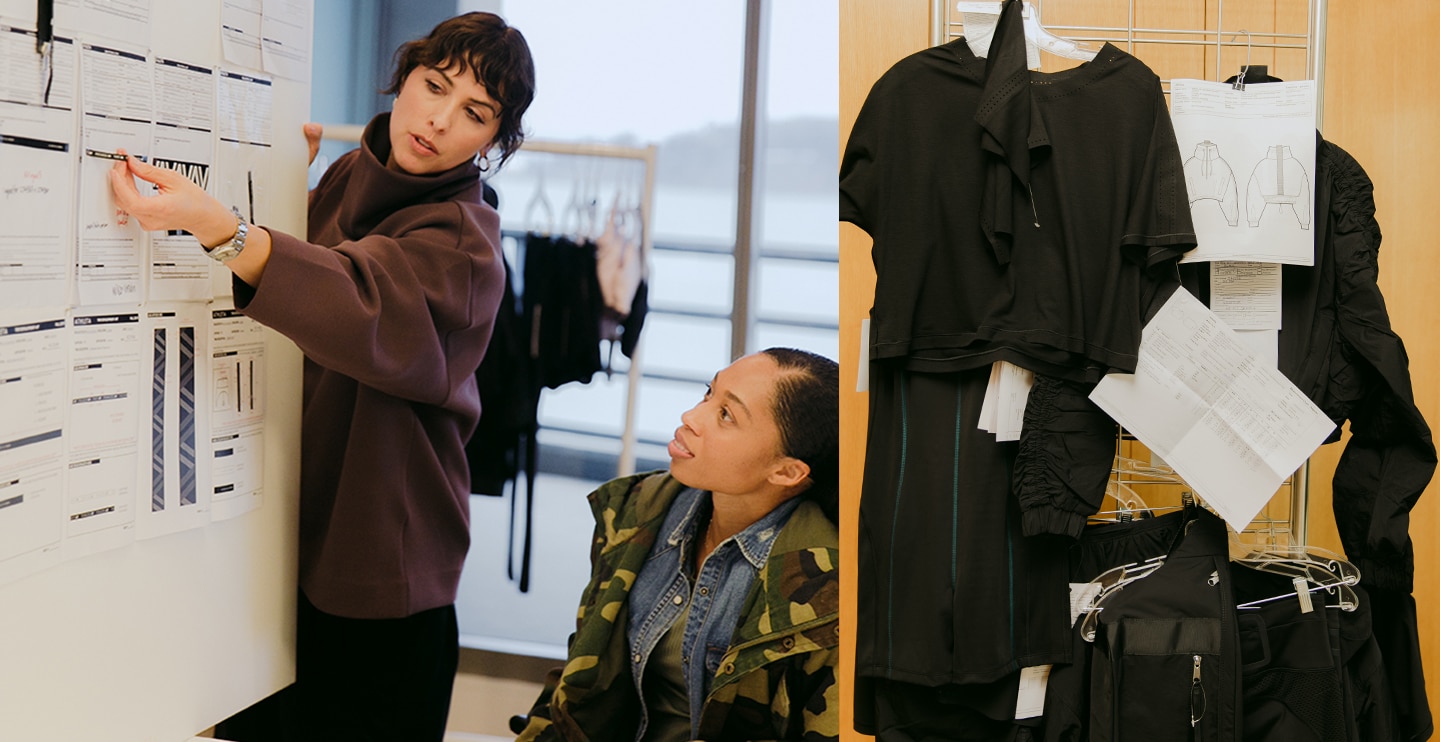 Highlights of the long-awaited collaboration? For Allyson, it was the day she saw prototypes for the first time at HQ. "It felt amazing to share with the team how I hoped these pieces would make women and girls feel. That's the moment I knew a longtime dream of mine had been realized." Casey reinforced how moving it was to see Allyson's vision come to life. "When I flew to LA to share the initial concepts with her for the first time, she was so excited. She affirmed that we were spot-on, and we could instantly sense she was connected to each and every style." In addition to these moments with Allyson, Casey was blown away by how her team stepped up. "Alexandra Gardner, our incredible Senior Designer for Train, has a truly unique design approach and exquisite sensibility. This collection really allowed her to integrate technical beauty into Allyson's love of street style. She's a wonderful thought partner and collaborator, and she made this project even more fun and rewarding."
"Our design teams are responsible for innovative solutions—for coming together to find new ways to do things. This is a powerful, wonderful place to be as a creative in this industry." —CS
When asked to describe the experience in a single word, Casey and Allyson agreed: eye-opening. Since the start of her career as a designer, Casey's partnered with some of the best athletes in the world. But shadowing the life of an Olympian proved both inspiring and humbling. "From the track to the gym to her home, I came to appreciate the grueling regimen, precise balance of training and restorative care, and sacrifices required." Allyson, meanwhile, gained a new level of appreciation for the countless decisions that go into a single garment. "Creating a line is an extremely complex process. Through the collaboration, I learned how many steps it takes to bring a vision like this to life."
As for the future, Allyson is laser-focused on her hope for this partnership, "I want to continue to empower women and young girls. To help them know their worth and feel seen in this world." As Casey revs up for future iterations of Allyson Felix + Athleta, she's all about innovation. "I joined Athleta because of its commitment to protecting our planet and empowering its people—that's what inspires me. I hope we can continue to push the boundaries, leveraging the latest technology and materials to meet the needs of this incredible athlete while upholding our brand's values."
FAVORITE PIECES
Allyson's Top Picks:
I absolutely love the Legend Zip Front Bra and Legend Mesh 7/8 Tight. The set makes me feel fierce and confident—two essential feelings when I step onto the track. I also love the Legend Crop Half-Zip Jacket. Streetwear culture has had a huge influence on my style and definitely inspired this piece.
Casey's Top Picks:
The Legend High Neck Bra—it's so clean and beautiful. Tied with the Legend Oversized Jacket, which is perfect to wrap up in for travel and layered to/from the track and gym. It captures Allyson's cool, personal off-the-track style as well."