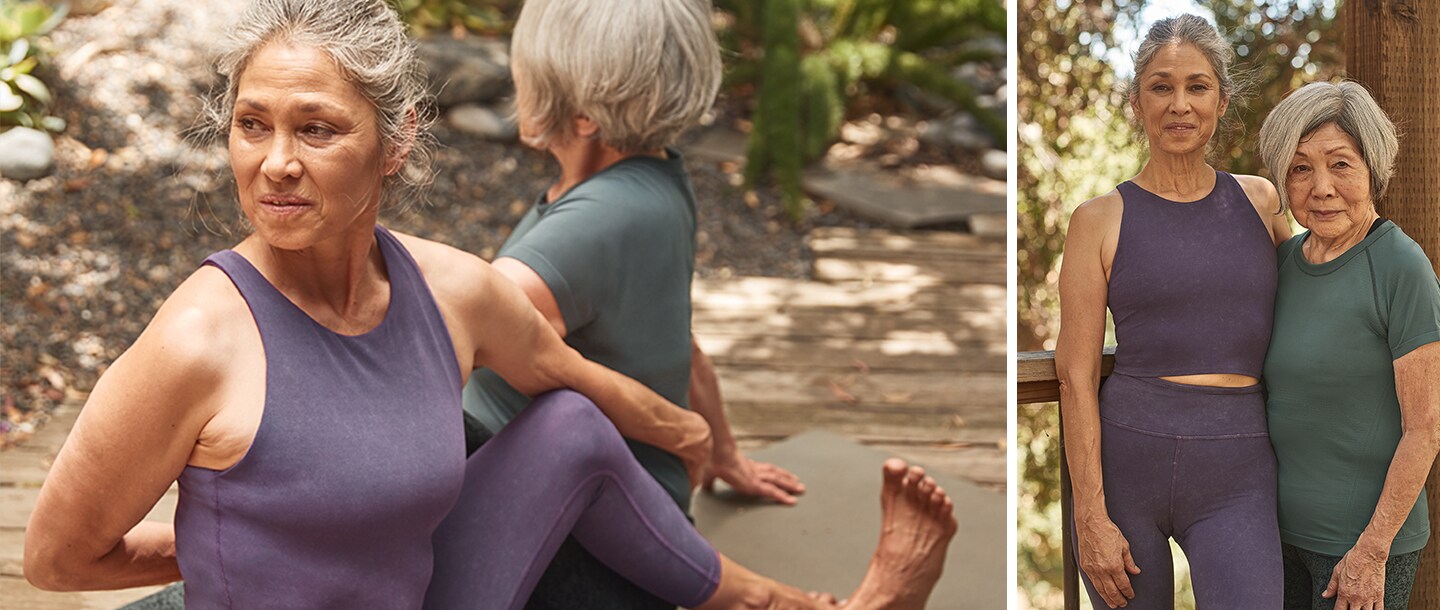 charisse glenn & kiyo glenn sharp
Charisse Glenn, Yogi & Writer
Kiyo Glenn Sharp, Yogi
Kiyo Glenn Sharp and daughter Charisse Glenn have discovered a new connection through their practice, one posture at a time. On the mat, they find strength, peace, and a profound love for each other.
q & a
How did you each find your way to yoga? Was it together or separate?
C: I started when I was 14 years old with my first book, so I was self-taught. As a teenager, I felt I had a weak nervous system and started reading to learn about its benefits. I've always seen movement about keeping an inner sense of calm—it's what drives me. I'm a very active, Type A personality, but I'm not the kind of person who wants to be in a gym with a lot of noise. Through walking, hiking, being with my horses—I can find the quietness in who I am through movement.
K: I'm 87 years old, and I started to practice regularly at 82. I was first introduced when I was in my 30s, but with young kids, it was difficult to maintain. After my husband passed away, I moved away to Oak Park, which felt so freeing. I love to walk, and there's so much access to nature and quiet here. One day, I read an article on the benefits of yoga and became interested again. Charisse was practicing by this time, so I thought, "I'm going to try." And there was a class at the Oak Park Recreational class. Since then, yoga has given me so much energy—I feel younger, I walk better. I can do a lot of things that I couldn't do before. I take classes three times a week, but with the pandemic, I take a Zoom class once a week. And now I also practice with Charisse.
Do you often practice together?
C: We actually hadn't practiced together until this campaign. Prior to the shoot, I thought, 'Ok, we better practice together to see where she's at, where I'm at, what we can do together.'
K: The experience was really nice. I was a bit nervous before, but it was really nice and calming.
Has anything changed since practicing together?
C: It's been really interesting to discover yoga together. Before this, I would go over there and help her with her Zoom, and it was a common thread that we both liked to practice. When the opportunity to join the campaign came up and we began to practice together, the connection between us changed. She's my best friend, and we've always had a great relationship. But with yoga, the connection has deepened, softened, become spiritual. Ego is not a part of it. It's not a mother-daughter dynamic. It's transformed in a very ethereal way. There's nothing more wonderful than holding someone's hands and looking into their eyes. And how often do you get to do that with your mother. Pretty magical. For me it's been really special.
K: I've learned so much from Charisse. And I enjoy every moment of our yoga together. I wish Charisse was a teacher.
How have your individual practices changed over time?
C: I was about 16 or 17 years old when I found my first real teacher. I've studied extensively at different times in my life. I lived in Paris in my 20s and was practicing four to six hours a day. I'm 63 years old now, and the biggest shifts in my practice have come as I get older. When I was younger, I was a pretzel. Having competed for 25 years with horses, my body has changed—muscles, joints, injuries. In my essay entitled "My Journey to Om," I write about going back to the depth of my practice. Yoga is never about the finished pose—it's about the journey to get there. Maybe I've always known this in my heart, but I've really integrated it now. My practice has been deeper as my body's limitations have changed. It's more intense, more personal. My postures are not as "advanced"—but the basic, classic postures are the ones I'm working to perfect. And because the journey is so individual, you cannot compare. Meanwhile, my mom always wants to push!
K: When I first started, I was so determined. The first day I said, "I really need to learn it. I need a one-on-one session." So, I asked the yoga teacher for a private lesson. But now, I see the benefit of being with others. Even though yoga is individual in the movement, I do miss the community. We have an amazing teacher who is now doing Zoom classes. She was initially hand-picking no more than six students to join each class, because she knows the importance of individual attention.
What do you admire in each other?
K: I admire Charisse so much. She has done so much for herself. I'm so proud of my daughter. She has experienced so many highs and lows—they've made her stronger. This gal, here, I just adore her. She's taught me so much. And I love her. That's it.
C: I believe we choose our parents before we come into this body. And I'm very happy with my choice. I got a lot of that strength my mother describes from her. She's Japanese-American, she married outside of her race when it was not cool, moved to Bogotá in the 50s, did a lot of out-of-the-box thinking, and raised both me and my brother to be free thinkers. I was never judged for failing. She saw "non-accomplishment" as a lesson to be learned. From the youngest age, I've never been afraid to try something new. If something doesn't work, try something else. That's one of the things I gained from her and admire the most. That's not how her friends and community were raising their kids. From a very young age, she gave us so much freedom to explore. She had incredible chutzpa.
K: I had to. You have to do what you have to do. I taught you by example.
C: She taught us by example. She quit her job—as a single, Japanese woman with two kids—to become a freelance casting director. That's a pretty ballsy thing to do in a white, male-dominated world. My casting director friends say, "Thank god for your mom, or else we wouldn't have our careers." And her mother was part of the early suffragette movement in Seattle, fighting for women's rights. I'm so proud to be part of that lineage.
"She's my best friend, and we've always had a great relationship. But with yoga, the connection has deepened, softened, become spiritual." —Charisse Glenn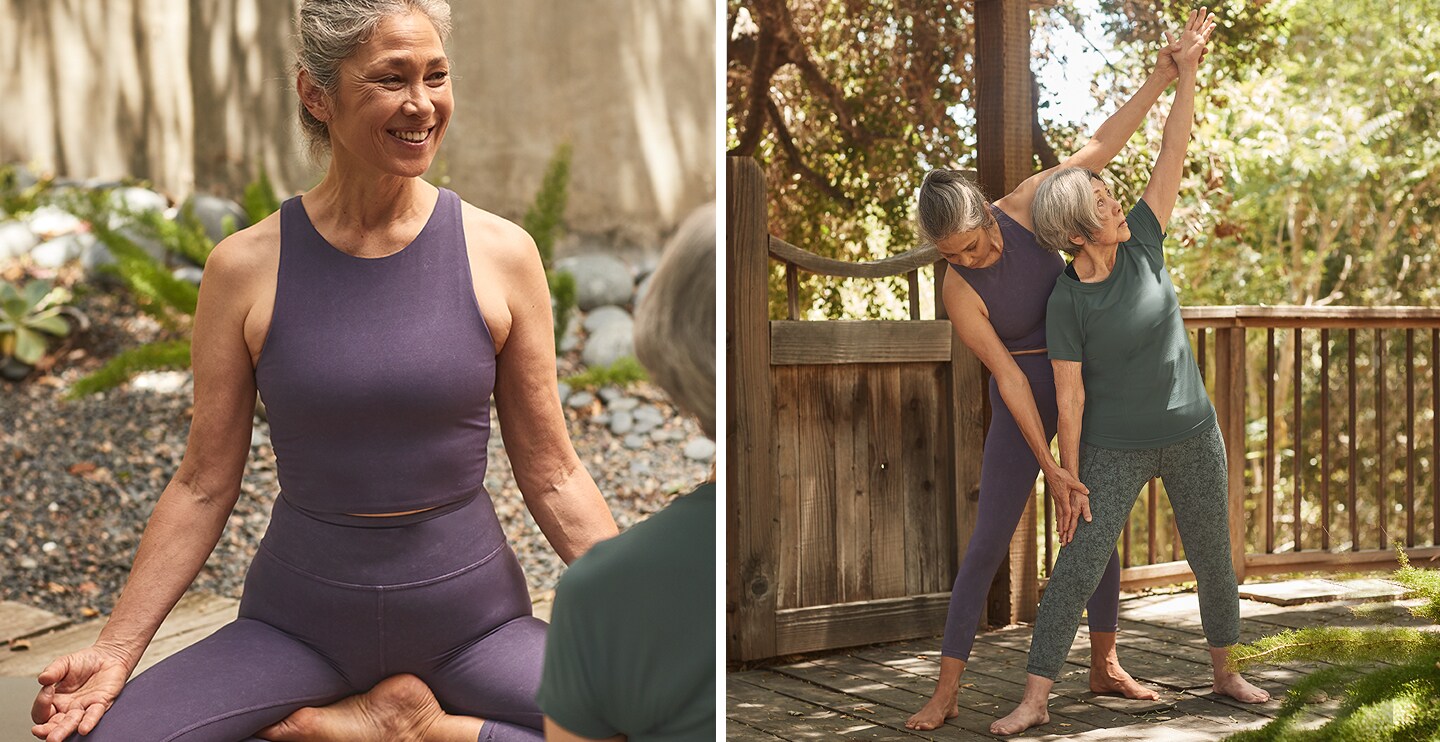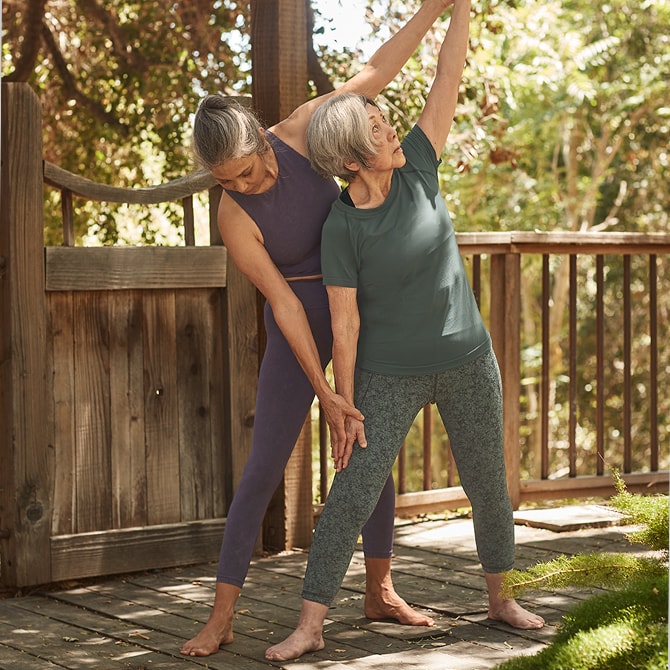 rapid fire q&a
KIYO:
Music or no music? No music. Favorite pose? Spinal twist and supta baddha konasana Favorite hobby outside of your practice? Cooking Stress-reliever? Walking and my two cats.
CHARISSE:
Music or no music? No music. Favorite pose: Supta baddha konasana, triangle, halasana, and shoulder stand Favorite hobby outside of your practice? Horses and hiking Stress-reliever? Yoga, my animals, and writing almost every day.
"Yoga is never about the finished pose—it's about the journey to get there. Maybe I've always known this in my heart, but I've really integrated it now." —Charisse Glenn