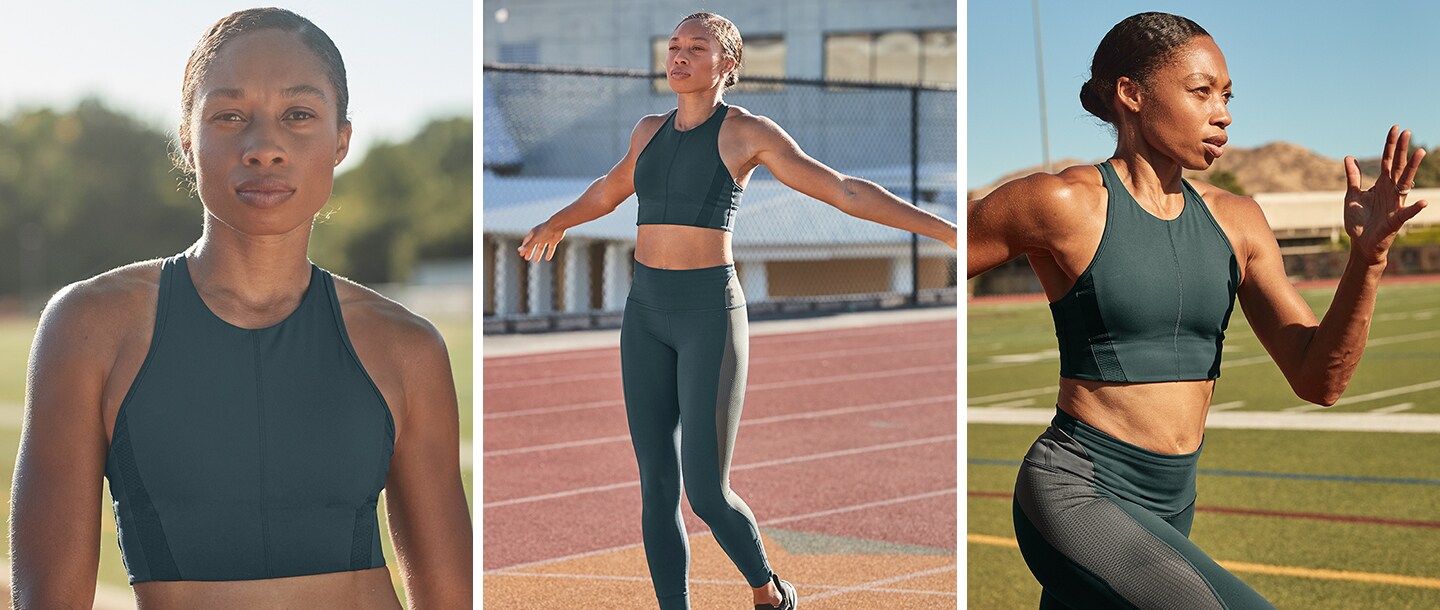 allyson felix & jackie joyner-kersee
Allyson Felix, Mother, Activist & World's Most Decorated Track & Field Athlete @af85
Jackie Joyner-Kersee,
Sports Illustrated's

Top Female Athlete of the 20th Century @jjoynerkersee
q & a
For those who don't know, can you give context on your relationship to one another? When and how did you meet? 
A: To me, Jackie's a mentor and role model. She's also my coach's wife. So, our first connection is my coach Bobby, he brought us together. Through the years, she's been someone I've looked to for real-life practical advice. It's one thing to be a great athlete, but it's something else to be able to pour yourself into others and truly care about how they're doing—beyond how they perform on the track. That's who I strive to be to the person coming after to me—opening that door. For women, it can feel so competitive. Jackie has paved the way with grace. She's opened the door and given a hand. It's not just me, a lot of people feel this connection with her. That's someone who doesn't have an ego.
J: Allyson is very unique. You see the determination and grit, but everything is done with grace, on and off the track. I love what she said about me, but I feel the same about her. She always gives of herself even at the highest level. She's a beautiful soul and a person I hope the world comes to know even better beyond the gold medals.
When you first started out, can you describe the feeling of discovering your sport? Did it feel like a calling?
A: I kind of stumbled into running. I was at a new school and was trying to meet some more people. That was my main motivation. I saw the potential and thrived off the competition. Track is unique in that there's nothing subjective. On a given day, it's all about who is the fastest and who jumps the highest. I gravitated toward that.
J: For me, I just loved running. I wasn't one of the best girls, but I wanted to be on the relay team with friends. I told myself that if I could improve half of an inch, I would keep going. In my first competition, I finished last! But my coaches told me I had the potential, and I believed them. At 14 years old, I remember watching the '76 Olympic games thinking, "One day, I want to be on TV. Maybe I could do that by going to the Olympics." The commitment, the hard work, the lifelong friends you make—what I knew I could gain from the sport, it drew me in.
What do you see as the greatest barrier to sports for kids today?
A: In my observations, there's a critical age for girls in which their confidence drops and participation drops. They don't feel they're good enough, they're experiencing their bodies changing. A lot happens at that critical age—that's hard. Also, a lot of youth sports are expensive. You need someone to take you. And not everyone is able to do that or has access.
J: Access is everything—resources can be a huge barrier. As Allyson mentioned, having confidence is also key. So many young girls get caught up in body image and don't see sports and fitness as a way to set goals in a healthy way. A lot of parents and coaches volunteer to invest in young people doing what they love, but even we can get caught up in the winning and losing. As adults, we need to get out of the way to allow young people to find their way—and have fun!
Can you recall a moment in which you considered giving up or faced a roadblock in your progress? How did you push past it? 
A: In 2008, after my second silver medal. That was a defining moment. I had done everything and got the same result. I didn't think about giving up, but I doubted myself and wondered whether it would ever come together. I wondered how much more I had to give. I was checking all the boxes, and the result wasn't adding up. The night after, that, I was so devastated. Jackie kept texting me but also reminded me, "You don't have to respond." She was just checking on me to see how I was doing. No one could help me out of it, I had to deal with it myself. But to have that support, someone on your team, to see the potential when you can't see it—that's what you need in that moment. Looking back now, I'm grateful for that moment. It prepared me for what was to come.
J: For me, I went through a lot of trying times. Even though Bobby was there, no one was there to say, "Jackie, it's going to be ok." I dealt with injuries at the wrong time and being asthmatic. But I never thought about giving up. I felt the anxiety for Allyson, because I know how hard she had trained. Sometimes, it doesn't happen on our terms. To me, she had to go through that. It was just a matter of putting it all together. There are times when I had ups and downs. I could feel myself in Allyson in that moment. That's why I told her, "You don't have to text back right away, we're here for you." To me, you don't see that a lot in sport. Everyone is there when you're winning, but when you're not, no one sees you
A: You want everything to work out and come together. In real life, it doesn't always happen. You have to be able to navigate that. I did need to navigate that. And it doesn't mean you're owed anything or deserve the gold medal.
What scares you or intimidates you about your sport?   
A: The 400. It's about what comes naturally to you and what doesn't. I love the sprints, I love to go fast—that's what's fun to me. The 400 doesn't come naturally to me—it's more about strategy and harder to understand. It's good to get out of your comfort zone and challenge yourself though. I had to shift my thinking from being scared of it to seeing it as a challenge to tackle.
J: For me, it's always been about trying to find balance, on and off the field. I love the heptathlon, but I think my husband loved it more. I wanted to just long jump. It was a challenge trying to master all of the different events—it really played on psyche. It would be unnerving when I was injured in an event I didn't love. Also, it was very challenging psychologically to not confuse being asthmatic for being out of shape.
"I find peace in knowing my worth and understanding that I'm not defined by what I do on the track. It's what I do, not who I am." -Allyson Felix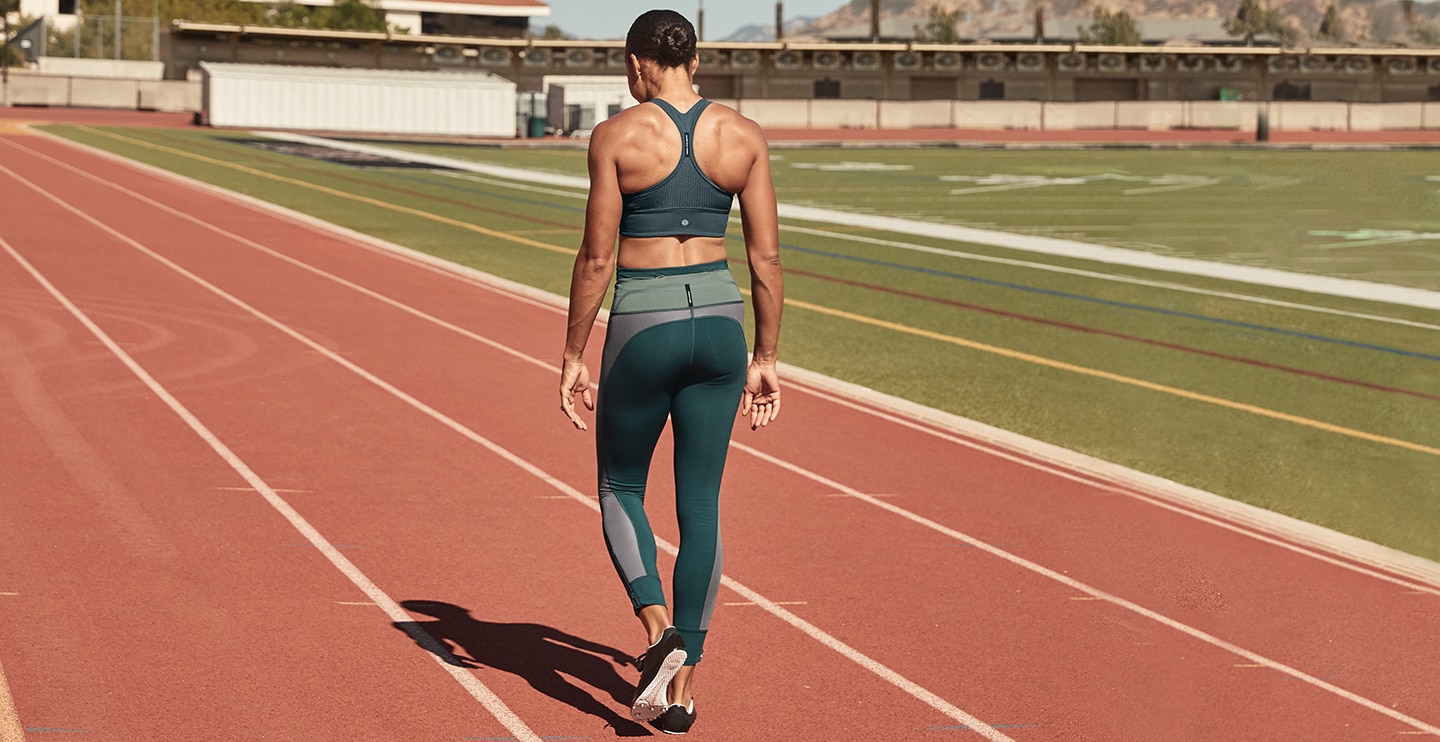 How does track and field inspire confidence in you? How do you see it inspire confidence in others? 
A: There are so many lessons to be learned that can be applied throughout your life. Developing work ethic. Dealing with defeat. Being on a team. Track has an amazing way of teaching you foundational things you end up using for the rest of your life. I've relied on some of those things I learned really early on.
J: Track has a way of humbling you. And it teaches you to set goals. Starting early on in my career, I was not one of the best. I learned that I didn't have to win all of the time. I respected what I was doing, and I focused on being consistent.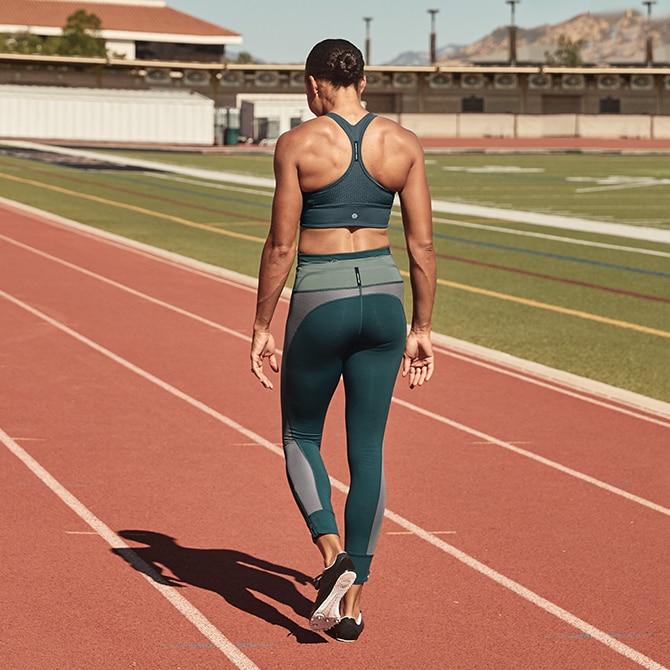 How do you reconcile self-acceptance and, as elite athletes having competed on the world stage, a constant state of striving?
A: Acknowledging that this is a journey, which my younger self definitely struggled to understand. My value and my worth got caught up in my performance, equating success on the track with my own worth and value. They are completely separate, but it's been a journey to separate them and to understand the difference. It's hard in competitive sports, because your goal is to win. And when money and sponsorships are involved, you're literally being told what you're worth. I find peace in knowing my worth and understanding that I'm not defined by what I do on the track. It's what I do, not who I am. I can be super ambitious and have all the goals, but the people I love could care less if I win more medals. I keep striving, but at the end of the day, it's absolutely ok if it doesn't happen. What's for you will be for you. And that gives me peace.
J: I love that, Allyson. I've found my peace in being happy with who I am and what I do for me—managing my expectations of myself, not of others. I focused on what I could control and tried to not worry on what I couldn't control. If I went into a meet where I was expected to win, and placed second, people would ask, "What happened?" But my goal might have been to just work on driving my knee up in long jump. I knew I gave my all. I never let one situation determine my self-worth. Because I have a lot to give, and I know my worth.
What would you tell women who are held back by the feeling of not being "legitimate" enough in their sport or practice?
A: I think it's hard, because now we have so much contact with the way other people live. It's one thing to be critical of yourself but now you're able to hear others be critical of you. And it builds into fear if you don't have that confidence. Try to be in tune with yourself. And don't feed into the outside noise— just block it all out.
J: Some people know no boundaries. It is very important to have boundaries. And to know that you are enough. How do you define that? What does that look like for you? I like what I see in the mirror, and I feel good about who I am. That's what I'm going to exude, and I'm not going to let someone else tell me how I should be. Because a lot of people can hide behind social media. Never lose sight of who you are. Allyson said it earlier, but it's a journey. Surround yourself with people who encourage you and who will be real with you—not just tell you what you want to hear.
"There are times when I had ups and downs ... Everyone is there when you're winning, but when you're not, no one sees you." —Jackie Joyner-Kersee 
If you could tell the next generation one thing about the impact of playing sports, what would it be? 
J: It's not about the gold medals. It's about developing work ethic and making connections to something bigger than yourself. Through sports, I was able to travel the world, go to my school of choice, make some of my dreams become a reality. I was also able to meet people from all walks of life and make connections beyond the lanes on the track.
A: Sports open so many doors, whether you take it to the highest level or not. It teaches you all those lessons, including teamwork and learning to deal with failure. It's about participating, getting out there, and building that confidence. It's never stopped giving back to me.
What do you admire most about one another? 
A: On the track, I admire her competitiveness. She's constantly raising the bar and never settles—from gold medals to world championships, she never puts a limit on herself. As an athlete, that's the ultimate goal. You want to be the greatest—and she truly is the greatest. Off the track, I could go on and on. But the most? Jackie's spirit, because to me it's the reason she invests in people. Not everybody can do that genuinely and authentically. That's something to be admired—to help someone else and not expect anything in return. She's such a genuine person, and I strive to have Jackie's spirit.
J: On the track, Allyson's tenacity—how competitive she is. I always think of Allyson as the quiet storm. Her demeanor can be unassuming, but her desire is to destroy—and that's a deadly combination. When she gets on the track, she's so consistent day in and day out. I also admire her respect of others. To me, Allyson is the queen of our sport. She wears that crown proudly and represents us in the best light possible. If any girl should emulate anyone, it's Allyson Felix. Win, lose, or draw, she's the same person. And it takes a very special person to perform with grace. Off the track, I admire her as a loving mother, sister, daughter—always thinking of ways to give back quietly. She's just a very thoughtful and caring individual. You feel like you've known her all your life after one conversation. We're so blessed as a nation to have her as an ambassador and to celebrate her greatness both on and off the field
As Olympians, we have an idea of how you define success. But as women off the track, how do you define success in your lives holistically?
AF: Lately, I've been focusing on empowerment. How can I support other women? How can we just continue to elevate each other? I've been trying to shift my definition of success in that way. We need to lift each other up and celebrate each other. "When other women win, that's a collective win, not competition—we're in this together."
J: I agree, because there was a time when it was very difficult for us as women to pull for one another. Through my community center, I work with young people and help them understand that it's a journey and a daily commitment. And to show them how important it is to support each other. So, my success is seeing the people I work with become successful, and also being able to use my voice to inspire others and empower them to do something they didn't believe they could do. We've begun putting words into action, and the goal is to see results from that.
As we prepare to say goodbye to 2020, what are your biggest dreams in 2021? 
 A: I hope for a time of healing. 2020 has been a year where so many people have experienced loss—loss of life, loss of jobs, etc. When I look to next year, I think of all hopes and dreams meant for this year. They're delayed, but we're still going after them. So, yes, a time of healing but also of striving—to get back on the path. I'm very hopeful of what's to come.
J: Hopeful, yes. In 2021, I hope for a vaccine! Hopefully, we've learned through 2020 that it's time for uncomfortable conversations so we can find a common ground where we can agree to disagree but continue to see movement, and changes … change for good. I hope that people will come together. Once we get beyond what we've experienced in 2020, it won't be just a moment of conversation but one to continue onward, forever.