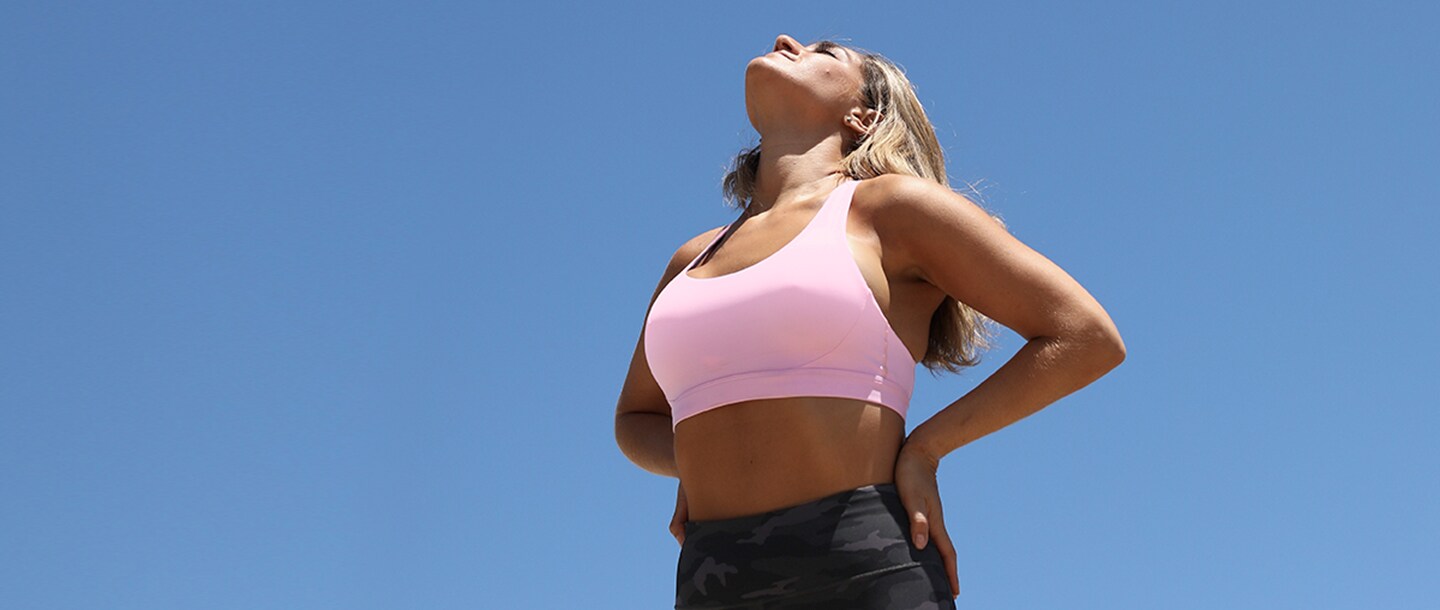 paige more
Previvor, Athlete, Co-Founder of The Breasties
q & a
Before you became the co-founder of The Breasties, you faced one of the most difficult challenges any woman can face. Can you tell me about your diagnosis?
Every woman on the paternal side of my family passed away from ovarian or breast cancer. So when I was 22, I had genetic testing done and found out I carried the BRCA genetic mutation. Every person has the BRCA gene, but mine is broken—it's mutated. My chances of getting breast cancer were 87%. It didn't feel like an "if," it felt like a "when."
What was your decision process for the treatment you chose to pursue?
I've always been proactive—especially with my health. I wasn't going to wait for cancer to come get me, I wanted to take action. At 24, I underwent a preventative double mastectomy, which lowered my chances to 3%.
From where I stood, I couldn't afford not to make that decision. It's not the right choice for everyone, but it was right for me, and changed my life for the better. I didn't want to spend my life worrying if today's the day I'm going to find a lump. After watching so many women in my family pass away, I wanted to give myself as much time as possible. I constantly remind myself that now—I ask myself, "How can I take advantage of the time I do have?" I don't want to ever take that for granted.
Your body has been through so much. How did your body change? How did your relationship with your body evolve?
Leading up to my surgery, I channeled my fear and loneliness into my workouts. I came up with a program to get as strong and healthy as possible before the procedure in order to recover faster. My team of doctors and nurses couldn't believe how strong I was.
It was still brutal, though. Imagine being in the best shape of your life and then losing all that strength overnight. It's painful, you're exhausted all the time—I felt like all the work I had done was wiped out. You have a whole new body, one you don't know, don't trust, don't recognize. You wonder, "Should I challenge it? Push myself to do one more pushup? Or should I not?" That, plus the emotional aspect—I've always loved my scars, but I didn't love my body after surgery. There is a lot of fear and unknown in having to relearn and re-love yourself. It's been a journey—to feel okay in my new body, to learn how to accept it.
But your body got you through all of that. Do you feel stronger now?
I am so grateful for my body and all that it's been able to do. Now, I am stronger than ever. I can run faster, I can lift more, I can do what I did before surgery even better. It's taken time and patience and, mostly, gratitude. Going through this, you feel your body is your enemy, the thing trying to kill you. But you have to separate it—your body is the thing keeping you strong and healthy, and you have to take care of it.
The physical pain pales in comparison to the emotional and the mental. I can't tell you how survivors feel, but as a previvor, it's such a mental thing because I had a choice. It's a self-inflicted wound almost.
"When I came out of my surgery, I remember looking down at my body, all bandaged up, and I felt so strong. I saw my scars, I was like, wow, these are so powerful."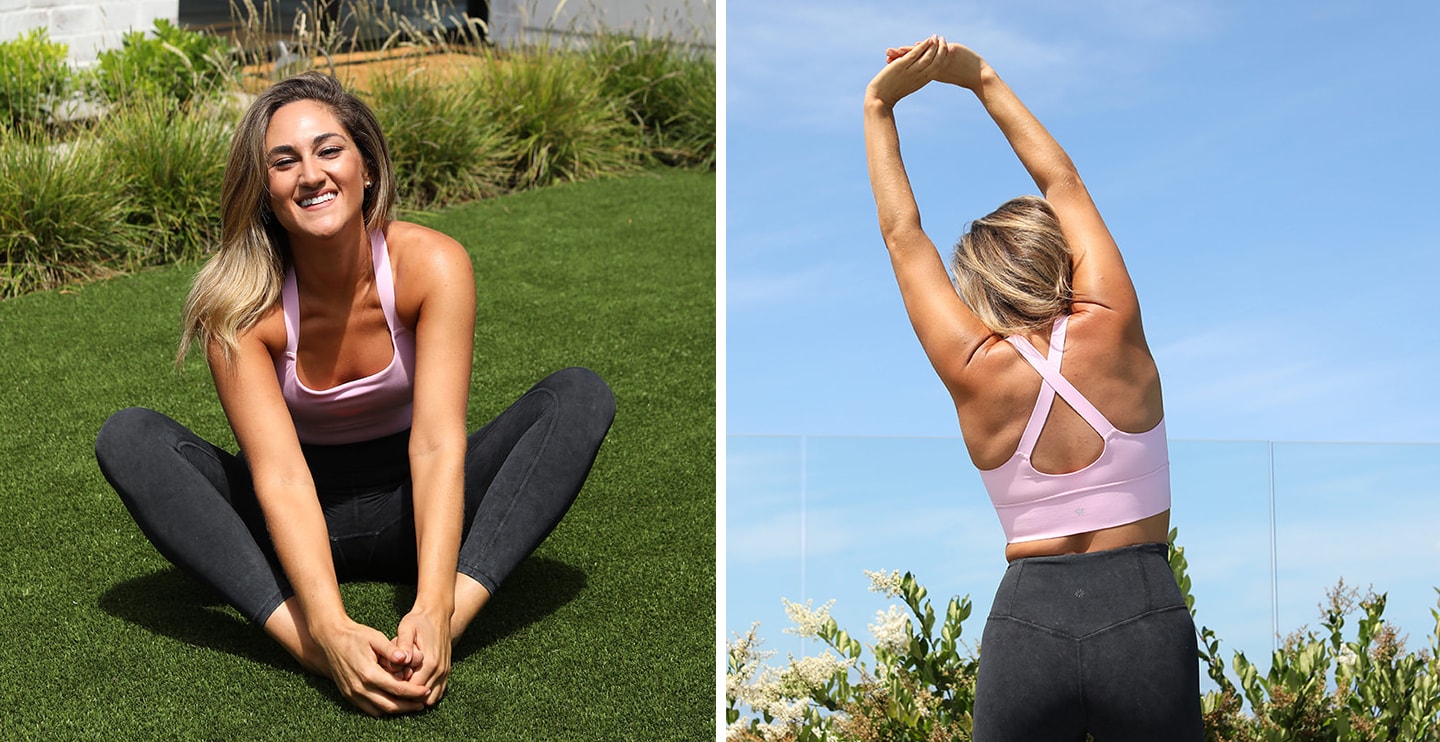 Who, or what, were your support systems on this journey?
My parents were so supportive, but they were terrified. When I went online for support, everything was so scary and negative. I couldn't find anyone who felt like me—I had the mentality that I wasn't going to let this ruin my life.
I didn't tell anyone besides my close friends and family before the surgery. Then the day of the surgery, I decided to put my truth out there' so I posted something minutes before I went in. I was scared, but I wanted to share what I was choosing to do, and why.
When I came out, I remember looking down at my body, all bandaged up, and I felt so strong. I saw my scars, I thought, wow, these are so powerful. I wanted women everywhere who were going through this to feel that strength and empowerment and sexiness.
I checked my phone, and there was an outpouring of support. So what was that narrative of shame I had found online? When you own who you are and share that for the right reasons, you're only going to get love and support.
I remember thinking about my little sister, Camryn, who is 11 years younger—God forbid she tests positive, I don't want her to feel as alone and afraid as I felt. So I did it for Cameron. I started sharing my story on Instagram and it just took off.
I thought there wasn't a place for me. That there were only communities for women who had been diagnosed with cancer. That I hadn't been through enough and wasn't welcome. But creating this space for everyone—regardless of your age, your stage, your story—it's about coming together under that shared feeling of belonging. We have all been through something, and we all need friendship and community.
And so you created this amazing community from the ground up, The Breasties—how did you do it?
Just by sharing my story on my Instagram. I wanted anyone who needed support to know that it doesn't matter if you're a previvor, survivor, thriver, or wherever you are in your journey—we all need support and everyone is welcome. I wanted to use my platform to bring everyone together so they can find their own Breast Friends.
"Breasties" is really a feeling—that feeling when you meet someone for the first time who knows you, who understands your story without having to explain yourself.
And forming those connections online started this movement?
I also started hosting in-person events anywhere I was traveling for work. The idea was to connect women from all over the world, and that's how I met my co-founders, Allie Brudner, Bri Majsiak, and Leslie Almiron.
We planned our first ever retreat, and at that time, we weren't an official non-profit yet. When we came back, hundreds of women were asking when the next one was, so we started planning. But we're all volunteers, so we only do five retreats a year, and hundreds of women apply. Our response to that was to create Camp Breastie and open it to 500 women. We thought there was no way we could get that many, but we sold out in a week.
Two years later as an official non-profit, we've led 10 free wellness retreats, have over 100 ambassadors in 46 cities across the country running events, and we host Camp Breastie—we're growing every day.
What are your hopes for the next generation of women going through this?
To speak up, ask questions, share stories. Often, you ask yourself, "Am I making a difference? Am I helping?" If you're asking yourself if you should you share your story, the answer is always, "YES!" Because you never know if that's going to help someone.
We all have a story. Our voices all matter, we all matter. You never know how much you can impact someone's life just by sharing your story—you can change the world.
I'd say to anyone who's been impacted by cancer, it's going to be okay. I know it seems so overwhelming and scary right now. And you're going to have hard days, but you've already made it through all your hardest days. And you don't have to go through this alone—there's an amazing community of women supporting you.
I wish I had someone to tell me before my surgery that you matter, you are beautiful, you are enough—this doesn't have to negatively define you. In fact, this can be one of the most empowering things about you.
"We all have a story. Our voices all matter, we all matter. You never know how much you can impact someone's life just by sharing your story—you can change the world."
Tell me about a time you felt strongest—did you feel it in your body? In your mind?
Before and after my surgery, I was working so hard to get as physically and emotionally strong as I could. I don't think I had a chance to really see and appreciate my body—because I was so busy being hyper-critical of it. And then one day when we were on a retreat, we were hiking to the top of this mountain. One of the Breasties twisted her ankle, and she couldn't make it back down.
I don't know how it happened, but I was overcome with strength—I told her to get on my back, and I climbed with her all the way down. It was a moment of adrenaline, but also this realization that we really are in this together. It was the first time I was able to see my body for what it truly is—so strong and capable. It also showed me that as Breasties, together we're even stronger. Together, we will help each other reach the top.